NEW RECORD DEAL JULY 2020
Tim signs new record deal with German Label ZYX Music!
The brand new album, The Tim Ambler Collection contains previously unreleased tracks and is available now on all download and streaming stores worldwide. See preview here >>
The Indie Christmas Album was released by World Domination Music.
It includes one of Tim's "oldies" – Xmas Night – which was recorded and produced for him by the legendary producer Rob Davis in the 90s.
Thanks to David & Dan Buskell and Nelson King.
For details on how to purchase, please go to the Discography page.
TIM 'RISES FROM THE GRAVE' TO EXERCISE HIS COPYRIGHT!
(The following article is reproduced with the permission of its author)
"WHATEVER WILL BE" is an English song authored and composed by the English writers Tim Ambler & J. Vincent Edwards. The song appears on Edwards's 1996 album "Souls" and later on Ambler's eponymous set "Tim Ambler" in 2000.
At some point in the late 90's the song came to the ears of household name Italian artist Francesco Baccini, very likely as a result of Ambler's many trips to Italy around this time, co-writing with various Italian artists and producers.
In 1999 the exact melody to the song "Whatever Will Be" appeared under the title "Quand'e' che mi dici si" on Francesco Baccini's album "Nostra Signora Degli Autogrill", with lyrics penned by Baccini himself. Given Baccini's huge popularity in Italy the album notched up large sales, and the song "Quand'e' che mi dici si" was featured as the album's trailer single racking up impressive swathes of airplay on Italian radio and TV.
The song was also popular amongst rock lead guitar enthusiasts thanks to stirring guitar solo work by one of Italy's leading rock guitarists, the legendary axe-man Andrea Braido.
Neither Ambler nor Edwards was aware of this until, in 2007, Ambler received a message over MySpace while on tour in Japan, from an Italian friend. She asked him what on earth he was doing there because she had heard that he had passed away many years before! Further she had heard the song "Quand'e' che mi dici si" on the radio countless times, and (knowing it to be Ambler's song) had made inquiries around the Italian music industry, only to be told that the original writer was dead and the song was out of copyright.
Just how Baccini believed that Ambler was dead and that the song was out of copyright is not known in any detail. However on the liner notes to the album "Nostra Signora Degli Autogrill" Baccini dedicates the album to Fabrizio De Andre (the legendary Italian writer who had recently passed away) and to Tim Ambler. This clearly shows that Baccini genuinely believed that Ambler was deceased and that the song was out of copyright…but just how he came to believe this is not entirely clear, other than that he was fed false information possibly by some opportunistic third party.
It is believed that the matter has since been amicably resolved by the various Music Publishers involved, without the need for any litigation, which again suggests no wrongdoing on the part of Baccini, but rather that he had been misinformed and misled about the song and its copyright owners by some third party.
The interesting thing is that were it not for the social networking site MySpace, the story would never have come out – another example of the power of the modern day web!
Listen to this number here.
Listen to J. Vincent Edwards's (English) version here.
(Gulf Weekly Jan 18th - 25th, 2006)
Tim Ambler is an accomplished and highly versatile musician, recording artist and songwriter, with a career that has seen him perform music all over the world, in bars, in hotels, on cruise ships, at festivals and in theatres. On his recent visit to the Gulf, Jackie Kennedy sat down with him to see what he was all about.
When was your first visit to the Gulf?
I first landed in the Gulf about 12 years ago as a tourist, in Dubai as a practising lawyer and part time musician in search of sun. It's probably not so wise for a fair skinned blonde guy to be a sun worshipper but I always have been. 
 
How many times have you visited the Gulf?
Quite a few, in April 2005 I returned to Bahrain to play a poolside show at the British Club which led to me being invited back to play the New Year's Eve Ball, recently I was due to play in Dubai but it was cancelled due to the country being in national mourning.
How did you come to hear about the venues over here?
The bookings came through Tony West Entertainments, Liverpool, one of the most professional and proactive booking agencies in the UK.
What did you expect to find over in this part of the world?
I don't really believe in nationalistic generalisations but what I am struck how in this part of the world there is a warmth and general positivity and courteousness , I'm obviously talking about the local as well as the expatriate community.
What is your opinion of the entertainment industry around the Gulf and what more could be done for it?
What I'd like to see is more LIVE music, REAL people playing REAL instruments and less drum machines and backing tracks, machines don't have the depth of the human heart. I've always much preferred a more natural and organic sound.
You were previously a lawyer before deciding on a full time career in music, what made you change your career so drastically?
I can't say I've ever really regretted leaving the law, a good lawyer requires a certain mentality and attention to detail that I don't have. 
As a musician you're much more free to give vent to your passions and your emotions which is really much more what I'm about as a person. I also seemed to meet more girls through music as well!   Not that that was a huge priority of course…!
What was the first song you ever bought?
The first song I ever bought was Wandering Star by Lee Marvin – God am I really that old!?
What is your favourite song of all time?
Favourite song well that's a hard one, Probably Don McLean's Vincent – it's a devastating, heartbreaking and yet a beautiful song, the melody is sublime and the lyrics just leave me breathless.
And artist of all time?
Agnetha Faltskog's vocal on ABBA's The Winner Takes It All is a mind-boggling performance. Generally though I'd have to say that for my own taste some of the most magical, even mystical contemporary music ever produced was written by Paul Simon and recorded by him with Art Garfunkel in the 60's.
What has been the biggest venue you have played?
My biggest venue so far was supporting Mike Oldfield at The Point Theatre in Dublin in front of 5,000 people singing my own original songs on just voice and guitar, a terrifying but awesome experience. I have two albums out in Ireland and one in France, a French language album I wrote and recorded with the French poet Agnès Martin, my songs have been recorded by eight established artists but unfortunately I still haven't landed the big one yet!
What advice you offer musicians?
To make a living out of music is that you can never be too good at your instrument and try and take care of your voice, there are far too many temptations out there not to look after yourself, and you'll end up paying for it! At the same time enjoy the ride, if that doesn't sound like a contradiction.
What is your philosophy in life?
My philosophy, when I'm having a good day! is that every day is a bonus when you look around you and see what some poor people are going through.
For you, what does it mean to be a real musician?
I recently gave a Christmas performance in the spinal injuries unit of a hospital and it's at times like that when you really do put things in perspective. That was a very humbling experience…
Where do you hope to be in 10 years?
In 10 years who knows whether I'll still be gallivanting across the world on the road the whole time I really can't say. I guess just healthy and happy is all we can hope for, oh! and Celine Dion recording one of my songs and selling 10 million copies, that wouldn't go amiss either.
The Instrumental "Constantia Number One", has recently been used in the video documentary production of "We had It All", the story of the evolution of a community in the West of Ireland.
"Tim Bound For Bahrain".   Tim has been invited to play two April dates  in the Middle East State of Bahrain.   Represented by Tony West Entertainments of Liverpool, he will play The Diplomat Hotel on 28th April, followed by a concert at The British Club on Friday, 29th April.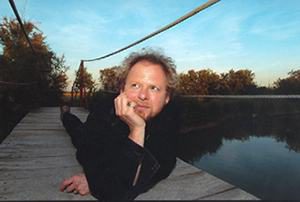 TIM SECURES FRENCH ALBUM DEAL
Following almost two years of co-writing with the renowned French author and actress Agnès Martin, (who had been introduced to him by Petra Gehrmann of Metisse Music in Paris) Tim secured an album deal with the French based company Venise Productions. The album contains twelve songs performed by Tim in French, and all compositions are written by the Ambler/Martin team. The CD is entitled Les rêves de Domino. A show bearing the same title will now take to the road – with Agnès and Tim on stage together, recounting the story of their collaboration and their songs. The show will be appearing in theatres across France, opening on third October at Yssingeaux. See this page for further dates and for enquiries regarding the new CD, please contact Tim.